I'm the original "Hire Me!" guy. "Will Compute for Food!"
Austin American Statesman, Friday March 1, 2002.
Metro & State Roundup Section.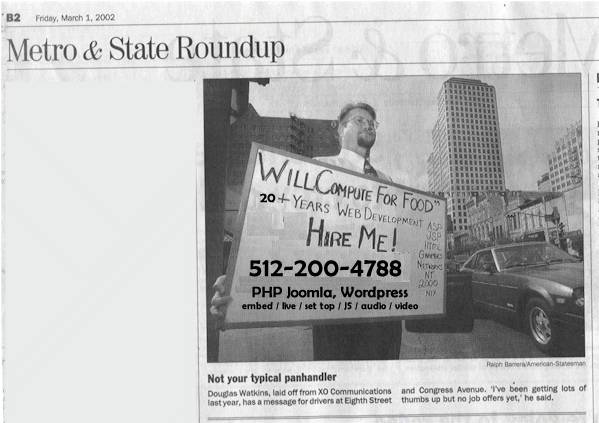 My story. After losing my job at XO Communications, formerly known as NextLink and previously as NextTel, I found myself in a challenging situation. This unfortunate event happened shortly after the 9/11 tragedy and during the time when Worldcom was collapsing. I was part of the first wave of around 800,000 developers in the USA who were laid off within a tight two to three week time-frame.
To secure a new job, I took an active approach. I sent my resume to more than 250 individuals and companies, and I even went door-to-door to personally present myself to potential employers. Despite my efforts, the offers I received were far below what I used to earn before the "Dot BOMB" era.
In an attempt to stand out and attract attention, I took even more innovative approach.

I stood on a corner of Congress and 8th Street in the State Capital of Austin Texas and walked around with a sign that read "Will Compute for Food," catching the interest of the media.

I anonymously contacted Austin Statesman from a nearby pay phone across the street near Congress Bridge, informing them about the guy standing on the corner with the white board and the satchel.

Soon, reporters and TV crews came over to cover the story, and I enjoyed the experience.
In the midst of these efforts, I left town to visit my kids for the weekend. Awaiting the results of my stunt and upon returning home, I was surprised to find my answering machine filled with 54 voice messages from people responding to the articles and news coverage about my job search.
Overall, the journey was challenging, but my determination and creativity brought some attention to my situation, helping me connect with potential opportunities and my income was back on track for 7+ years.
From time to time people would recognize me around A -town and say "Your picture inspired me – it's beside my computer on my desk at home or at work."

Also, the Texas Workforce Commission had my Article Posted in all workforce offices in the greater Austin area for several years as an example to all on how to stand out from the crowd.
Follow Up Article in 2004